Genesis Service Powell OH

---
---
---
---
The Sort of Work that You Can Expect Us To Perform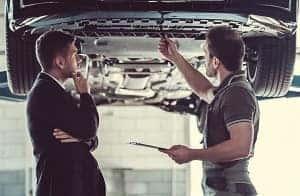 Whether the reason you're pulling your vehicle into our Powell, OH, Genesis service center has to do with taking care of the usual maintenance tasks or because something unexpected has occurred, we have you covered. Let's take a look at a sample of the kinds of service you can plan on having done here:
Oil changes
Brake repairs
Engine tune-ups
Tire maintenance
The recommended period that you let pass before having your oil changed depends on the type of oil that you're using inside your engine. If your car is older, it likely runs on conventional oil. If this is the case, it needs to be changed every 3,000 to 5,000 miles. Synthetic oil is what you'll find in most newer vehicles. It should be changed every 6,000 to 7,500 miles. If your odometer is getting closer to the end of either of these ranges, you should make an appointment soon.
While tires can last anywhere between six and ten years, it's important to remember that there are many factors such as driving behavior and the quality of the tire itself that can significantly reduce that lifespan. As a result, you're going to want to keep an eye on their condition. Tire rotations should take place every 5,000 to 7,500 miles or during each oil change.
---
---
Make Your Appointment Today
Now that you know more about the kind of care that your vehicle will receive at our Powell, OH, Genesis service center, you're welcome to start reaping some of the benefits that come with taking advantage of our personnel and resources. Contact Genesis of Columbus today to schedule your appointment.
---