Lease a Genesis G80

---
Genesis of Columbus
wants to help Reynoldsburg, Westerville, and Columbus, Ohio, drivers who are interested in leasing the
Genesis G80
find out if this is the right route for them to take. To accomplish this, we have drawn up the following introduction to the G80 and leasing in general. Read on to find out about both.
When you get to the end, we will tell you what you need to do to get a feel for the G80 for yourself.
---
---
Here's a Quick Look at the Genesis G80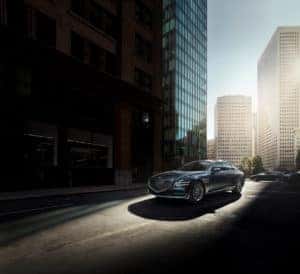 When you're in the driver's seat, you can be confident that the G80 has you covered when it comes to taking on any challenges. Whether you choose the standard 2.5L 4-cylinder engine with its commanding 300 horsepower or the available 3.5L V6 and its even more formidable 375 horsepower, there's not much that can stand in your way.
Useful features that are well worth mentioning include the rain-sensing wipers and auto-defogging windshield. These standard elements give you a clear line of sight when the weather starts to get a little difficult. They also allow you to maintain optimum control by letting you keep both hands on the wheel.




---
Reasons To Lease Your Next Car
When you lease a car, it will be new and under warranty. These two facts combine to ensure that you're not likely to be spending a lot of your time in a service center waiting room apart from when you're having the regular maintenance procedures performed. If you do need any serious repairs, you won't have to pay for it as long as the issue is covered by the warranty.
Leasing often allows your down payments and monthly payments to be considerably lower than if you were getting a loan. There's even a chance that you might not even have a down payment. All of this is made possible by the fact that you're not responsible for a car's entire value when you're leasing.
When the lease's term has ended, all you'll have to do is take it back to the dealer and start the process of finding out what you would like to lease next. If you had purchased the vehicle, you would be trading it in with less value.
---
Meet Our Finance Experts
The folks who make up our finance department are dedicated to making sure you have all the information you need to make a well-rounded decision. They will gladly answer any questions that you might have on your way to signing your Genesis lease, too.
---
---
We Can Begin Whenever You're Ready
Our Columbus Genesis dealer is fully equipped to assist you on your way to finalizing your G80 lease. The first thing we'll do is get you all set up to take this impressive luxury sedan for a test drive out on those Columbus, Reynoldsburg, and Westerville, OH, area roads. Contact a member of our team here at Genesis of Columbus today to get everything started.
---
Dealership Info

Mon - Thu

9:00 AM - 8:00 PM




Fri

9:00 AM - 6:00 PM




Sat

9:00 AM - 7:00 PM




Sun

11:00 AM - 4:00 PM




Mon - Fri

7:00 AM - 6:00 PM




Sat

8:00 AM - 4:00 PM




Sun

Closed

Mon - Fri

7:00 AM - 6:00 PM




Sat

8:00 AM - 4:00 PM




Sun

Closed

Mon - Fri

8:00 AM - 6:00 PM




Sat

9:00 AM - 12:00 PM




Sun

Closed